---
Freightfinders Fulfillment – Your Advantages
---
perm_data_setting
Growth-Minded
---

We accompany you from a start-up to an established company. Our offer grows with your requirements.
 
Fast response time when changes occur

  

Help by experienced logisticians

Scalable warehouse & transport logistics
currency_exchange
 Individual Offers
---

Receive individual offers based on your request and benefit from the modular structure of our producs.
 
No standardised offers 

  

Individual services

Only pay for what you need
contact_mail
Communication
---

Communication & coordination with experienced logisticians. Our partners help you every step of the way.
 
Long-term experience

  

Communication possible in Polish, English & German

Joint arrangements for smooth transport

 
---
What is fulfillment
& who can profit from our services?
---
Fulfillment is basically just a word for all the processes that start after the contract is signed. It includes the sub-areas of goods delivery, warehouse logistics, commissioning, packaging, shipping & customs clearance. You bundle all these services under one contractual partner and thus minimise your communication and coordination costs. Due to the lower effort, fulfillment is therefore ideally suited for start-ups as well as small and medium-sized enterprises without an own logistics department. Thanks to technical solutions and connections to merchandise management systems, online shops can now communicate automatically with the warehouse via an interface, adjust stocks live and order new goods into the warehouse at the click of a button.
 
Fulfillment
for Small Businesses

We know that the development of start-ups often takes place in irregular spurts and the demand for goods can therefore increase quickly. We therefore offer you, as a start-up, an individual fulfillment package tailored to your needs and support you in the event of changes.
Get a free fulfillment quote and arrange a phone appointment via our call centre or send us an email to fulfillment@freightfinders.com.
Fulfillment
for small businesses

As a small business, you are initially busy, managing everything by yourself and building your company step by step. But at some point you reach a point where you cannot go any further with your own resources. It is a matter of scaling up while maintaining the quality of the value chain. This is where Freightfinders' fulfillment service can help. We effectively support your business as your order volume grows, and thus also as you grow from a small to a medium-sized company. Contact us via mail or phone to get an individualised offer!.
Fulfillment
for medium-sized businesses

Medium-sized companies usually have greater resources and opportunities. Despite this, there are some points that are still difficult to manage even here. For example, they often do not have access to professional warehouses and the location is also usually far away from all its customers. However, fast shipping and therefore customer satisfaction is one of the keys to a business continuing to prosper. At Freightfinders, we offer you the necessary building blocks to help your medium-sized company becoming an even more profitable business.
Individual Fulfilment Solution for Every Company Size

Whether you are a start-up, a medium-sized or large company - we tailor an individual fulfilment package to suit your needs. Our fulfilment service includes goods delivery, picking, packing, special packaging, shipping, customs clearance, and a bonded warehouse.
Simply contact us by mail or phone and arrange a telephone appointment for the perfect offer for you.
---
Fulfillment Service Germany
Deliver your goods from Germany to the whole European Union
---

Fulfillment services in Germany have been growing in popularity in recent years, as more and more businesses look to outsource their logistics and inventory management. These services can include everything from storing and packaging products, to handling returns and customer service. One of the key benefits of using a fulfillment service in Germany is the ability to offer fast, Europe-wide delivery of goods.

Germany is a hub for logistics in Europe, thanks to its central location and well-developed infrastructure. This includes a dense network of highways and railways, as well as major ports and airports. As a result, it's relatively easy and efficient to transport goods within the country and to other parts of Europe.

For businesses looking to expand their reach in Europe, this is a major advantage. A fulfillment service based in Germany can help companies tap into this infrastructure, and offer fast and reliable delivery to customers in other European countries. This can be especially valuable for e-commerce businesses, which often struggle to manage the logistics of shipping products across borders.


 
---
Fulfillment for online Shops and Shopsystems
---
These are exciting times for online shops, because the Corona crisis presents companies with numerous logistical challenges. Merchandise management systems and shop systems are becoming increasingly intelligent and marketplaces like Amazon are gaining strength even in times of crisis. Concentrate on the important areas of your online shop while our partners take care of the logistics. We work exclusively with experienced fulfillment logistics providers who save you from unnecessary stress.
Amazon
Fulfillment

Fulfillment and Amazon - in e-commerce, these terms go hand in hand . Whether you are a small business or a well-known brand, you can find just about anything on Amazon, not least because of the solid logistics structures in the background. Amazon Fulfillment offers a good start into the world of e-commerce, especially for small and medium-sized businesses.
To help you get started, we have expanded our partner network to include Amazon Fulfillment. Even though we have not yet implemented the price calculation in our logistics configurator, you can reach us at any time via our call centre or by e-mail and request an individual offer!
Ebay
Fulfillment

Marketplaces like Ebay have taken the internet by storm, offering even private individuals the opportunity to test sell goods and build up their own e-commerce business based on their experience. This flexibility is further supported by Ebay Fulfillment. Nowadays you do not need your own logistics department and warehouse to be successful. Large freight forwarders and warehouse owners take this task off your hands and are usually more cost-efficient than a small or medium-sized company. It is our job to find and coordinate exactly these partners for you. Use our expertise in Ebay fulfilment for your online shop.
Aliexpress
Fulfillment

In addition to Amazon and Ebay, Aliexpress is also a fast-growing platform. Especially when it comes to shipping products from the Asian region. That is why our range of services also covers the fulfilment service for Aliexpress. We and our partners make sure that steps such as goods delivery, customs clearance or even storage run smoothly. Together, we can help your business continue to thrive. Feel free to contact us by mail or phone for a completely individual offer.
Etsy
Fulfillment

Many young entrepreneurs with a talent for handicrafts start a small shop on Etsy. From jewellery to clothing to furniture - there are many unique products to sell. But you quickly reach your limits here, as demand often increases immensely from one day to the next. With Freightfinders' Etsy Fulfillment, we help you to meet your customers' needs and enhance their buying experience. You can easily and quickly make a phone-appointment by email or phone to get your very own personalised offer.
Shopware Fulfillment

Many online retailers use shop systems such as Shopware. That is why it is important to us to find handcrafted solutions for our customers. The Shopware interface can be seamlessly integrated into our system. This means that all data can be transferred in the shortest possible time. The transmission of the orders in your shop are automatically transferred to us, so that the Shopware fulfillment can be started directly and your customers and you can benefit from a quick response time and fast shipping. For an individual offer, you can arrange a telephone appointment with us by mail or phone.
Shopify Fulfillment

Spopify is also a popular shop system that can be easily connected to our system. All data can thus be fed seamlessly into our system. This ensures that orders through your shop are transferred directly and easily to us, so that you and your customers can benefit from quick and easy Shopify fulfilment. Contact us today to arrange a telephone appointment. We will then prepare a favourable offer for you in the shortest possible time.
Individual Connection to Your Shop-System

Your shop system or marketplace was not mentioned? Our partners are able to connect to your individual system. Make a telephone enquiry or send us an email with information about your shop system so that we can clarify your options in detail.

 
---
Fulfillment Prices & Costs
---
At the moment, we have not yet integrated an automatic calculation of the fulfillment services in our transport cost calculator, so please contact us by phone or email. Based on a few questions, we can then determine the exact costs for your fulfillment service and put together an individual price offer. Any problems can be communicated directly in order to find the ideal solution for your company.
Make a Telephone Appointment Now

 
---
Fulfilment Service: Special Packaging
---
Do you have goods that require complex packaging or do you need special packaging tailored to the product? Then you've come to the right place! Our fulfilment service includes professional packaging of goods to reduce damage to your products to a minimum. Do you also want to ship your goods overseas? No problem - we build seaworthy packaging to suit your needs, using a variety of materials. From cardboard packaging, plastic packaging and thermofoil to wooden packaging. You will find a wide range of possibilities with us. 
All Fulfillment Services at a Glance 
We have compiled a more detailed list of our services for you here.
---
This is how the fulfillment registration works
---



Arrange a Telephone Appointment
Contact our call center (+ 49 30 577 005 47 4)  and arrange a telephone appointment or write us an email to fulfillment@freightfinders.com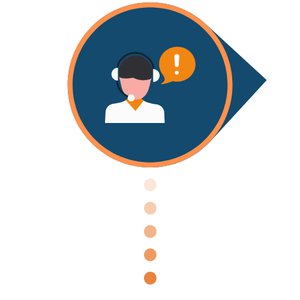 Your Contact Partner
To ensure that you always have a contact person, we established direct contact with you. That way, questions, requirements or problems can be discussed and solved beforehand.



Individual Offers
Our fulfillment package is modular and all offers are checked and tailored to your request. Only pay for the services you really need!    



Reliability for Joint Growth
Leave the fulfillment service to us and take care of the important areas of your business. Our partner logisticians convince with many years of experience and expertise in all areas of fulfillment logistics.