Find prices for logistics services
Container transport
Find favorable container forwarders with Freightfinders
---
International container transport
If you have chosen to transport your goods in a container, you have chosen a fast, safe and favourable transport of your goods. Through several options of containers and routes, you can customize you transport individually. Regardless of whether the goods are big or small, or whether it is a big or small amount – anything will fit.
---
Advantages: Container transport with Freightfinders:
✓ Compare forwarders and means of transports for cheap offers
✓ Receive the same prices as with the forwarding companies themselves
✓ EU promoted network of experienced freight forwarders
✓ Full Service: customs, loading, load restraint, insurance, packaging
---
If you are interested in a fast and safe container transport, please use our
---
We find container forwarders for your transport
Freightfinders compares container freight forwarders & calcualtes an instant price for you. If we cant calculate an instant price we are able to open a transport auction. Our partner forwarder are now able to place a bid on your transport. The Cheapest price will be send to you.
Additionally, we offer you further services for your container transport, such as freight insurance and customs clearence.
In this article, you will find further information about containers and ways of transport, as well as more details on our services.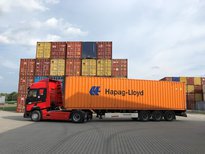 Calculating freight costs & prices for containers
An important point for the planning of a container transport are the costs. These consist of several single components and can partly also be influenced by your decisions. An example for this, is the choice the container. You have the possibility to choose among a variety of containers, be it a standard container, or e.g. a reefer or flat rack. Moreover, you can pick from different container sizes, such as a 20ft. or 40ft. container. It is your choice and, thereby, you can influence your container transport costs!
We offer you also the shipment of a FCL or LCL container. You can choose the type that fits your goods the best. Still, we can help you, find the most cost-effective shipping method by using breakpoint calculation.

Another point that plays a role in freight costs calculation for containers are the transport costs. With Freightfinders, you can determine these costs, by choosing the best and most favourable container forwarder within just a few minutes. Further charges that can arise, are, for example, the harbour fees, or handling charges. To get an immediate overview of your container transport costs, you can use our freight costs calculator.

Additionally, important components are also the customs clearance charges and the transport insurance. Usually, you cannot avoid customs clearance and, therefore, also the including charges. However, with Freightfinders, you can avoid additional charges, or maybe even profit from customs clearance with our partner customs broker. The transport insurance is not mandatory, however, we do recommend to cover insurance for your container transport to avoid unnecessary costs. You can inform yourself about the advantages of covering a transport insurance over our website.
---
Our transport costs calculator is currently under construction. During this time, prices can only be inquired via our contact-form. Soon, we will launch our new configurator, which will help you, find and book cheap prices fast and easy again.
---
Full Container Load (FCL) & Less Container Load (LCL)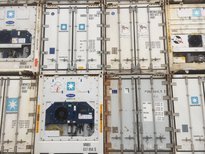 The different container types offer maximum flexibility for the planning of your container transport. Here, not only the size and type of the container plays a role, but also the choice between a FCL (full container load) and LCL (less than container load) containers. By using a FCL container, you have the possibility to transport exclusively your goods in a container. Thereby, you can protect your cargo from outside influences and ship them without additional handling. A FCL container can also be profitable, if the container is not entirely filled.
Furthermore, we offer LCL container shipments. Here, you are sharing the container and, thereby, also the costs for it with one or more clients. For this container transport, you should schedule additional time for the handling.
The LCL container is not automatically the more favourable option. With the breakpoint calculation, we can determine fast and easily, which type is the more favourable one. Afterwards, it is still your decision, if you want to book a FCL or LCL container.
Container types and sizes
At Freightfinders.com, you have a variety of different containers and sizes. We transport any container type fast and safely. This way, you can plan your next transport, adjusted to your individual needs. The most common container sizes are the 20ft. or 40ft.
Here is a list of our container types:
ISO containers (standardised)
High Cube
Reefer
Flat Rack
Open Top
Container transport services by Freightfinders
Container loading & load restraint
Container loading and load restraint are important points for a container transport. Professional load restraint can ensure, your goods not to tilt or fall over. Thus, you can reduce the risk of your goods being damaged.
By efficient container loading, you can save costs and time. Well elaborated stowage plans done by professionals are making this possible. Often, problems arise during the loading, which can be cleverly solved by our experts and their long-term experience. Sometimes, they can even save some space or a whole container.
Packing
At Freightfinders, you can have your cargo packaged to keep it safe from damage. We use the latest technology and ideal materials to properly pack your goods. Simply add this service to your container transport.
Container fumigation
Import regulations of many countries have been issued for the protection of flora and fauna. That is why, containers are to be gassed before import. Hence, we now offer you this service during the process of booking your transport.
FEWER – Container terminal software by Freightfinders
FEWER is an EU-sponsored container terminal software, which enables control and digitalisation of container movements. Furthermore, this software offers intelligent container storage and makes container terminals economically more efficient by shifting container traffic from road to rail. Thereby, tonnes of CO2 are being saved, which makes freight trains the most eco-friendly alternative.
Ways of container transports
We offer you multiple ways of transport for your container. Depending, on where you want to ship them, with Freightfinders, you will find a suitable route and the ideal way of transport. With our enormous network, we can combine different ways of transport to enable you to ship your goods smoothly and fast.
Sea freight
Book the transport of your sea freight container with Freightfinders. Our port of arrival and departure is Hamburg, but with our network, this is not a problem at all. We will transport your container from anywhere in Germany to Hamburg. With this way of transport, it is best, to ship a sea freight container, as it protects your goods from theft and the rough sea.
Road freight
Road freight transport is the best choice for close destinations. Still, you can also ship your cargo internationally with a truck. Compare and book trucking services for your next route with Freightfinders.
Rail freight
With rail freight, you can ship your cargo around the clock. This offers you maximum flexibility. Thereby, you can profit from a fast transport and a safe arrival of your goods at the point of destination.
</bild>