Welcome at the Freightfinder's press page!
In the future, you will find detailed information about our offers, news from the world of logistics and up-to-date news from Freightfinders, here. Please contact our team at pr@freightfinders.com for questions or request regarding PR. For journalistic matters, please contact us via presse@freightfinders.com.
Your Freightfinders Team
---
Freightfinders Wins the German-Luxembourg Startup Matchmaking Event
A total of nine start-ups from Germany and Luxembourg competed at the 4th International Logistics & Mobility Start-Up Matchmaking Event on March 12th, 2020, which took place at the Luxembourg Ministry of Mobility and Public Works. These young companies with a focus on logistics and mobility presented their pitches to industry experts and also had the opportunity to benefit from 1:1 matchmaking sessions with established and experienced colleagues. The jury and the audience then voted for the most innovative, scalable, and profitable start-up.
The Luxembourg Ministry of Mobility and Public Works, the Cluster for Logistics, CorpPeals, EY and Cargolux, which were the organisers of the event, ultimately named Freightfinders the winner of the event.
We would like to thank the organisers for the appreciation of our work and for the networking opportunities.
---
Freightfinders as a guest at the 4th "Terminal Day"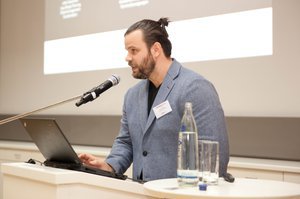 The SGKV e.V. ("Studiengesellschaft für den Kombinierten Verkehr", roughly translated to "German Promotion Centre for Intermodal Transport") has hosted the 4th "Terminal Day", which was under the slogan "Quality in combined transport." In a 6-minute lecture on "The Digital Intermodal Terminal – How digital processes become a success factor," our Managing Director Max Gürtler was able to present the innovative container terminal software "FEWER" and its benefits. Afterwards, there was a panel discussion with all company representatives, which managed to clarify emerging questions, and which allowed the attendees to network.
We are already looking forward to the next Terminal Day!
---
Freightfinders at the Startup event: "Next Round Brandenburg"
As part of the annual Startup Event "Next Round Brandenburg" Freightfinders, among other companies, was allowed to present their innovative ideas. In three minutes, all participants had the chance to introduce their company and to win over those present, which was subsequently rounded up by questions from the audience. Guests of honour were Brandenburg's Minister for Economic Affairs Jörg Steinbach and Dr. Schwaiger, who gave a lecture on artificial intelligence and its opportunities & limits.
We say thank you for the invitation and are delighted about the many new contacts made!
---
DVZ Interview with Freightfinders